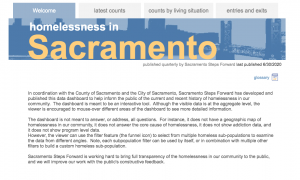 The newly released Sacramento Homeless Response System public dashboard is now available here.
The dashboard is intended to provide the public with homeless population data in Sacramento County. The dashboard, developed through a City of Sacramento, Sacramento County, Sacramento Steps Forward partnership, is a first step to publicly share data and information about people experiencing homelessness in an online format.
This dashboard provides data to help leaders and the community better define and gauge how our regional systems are assisting families and individuals in the process of leaving homelessness. 
The dashboard shows trends on how many individuals are experiencing homelessness on any given day and throughout the year in Sacramento; their living situation; demographics; numbers on who is coming into and leaving homelessness, and outcomes on whether individuals are housed, sheltered or continue to be homeless.
The dashboard will be updated on a quarterly basis. The data is collected from the Homeless Information Management System (HMIS), a local database used by homeless service providers to collect confidential client-level data including demographics, history of homelessness, services accessed and service needs. This information complements data captured in SSF's biennial point-in-time count, which documents both sheltered and unsheltered homeless populations. 
We recognize that the data and the dashboard itself are imperfect and come with inherent limitations. This is part of the intentional work we are undertaking to inform the community we serve about the depth and scope of homelessness in the region.
SSF and our partners are working diligently to analyze and improve upon the existing systems that serve our region's homeless population. There is much more work to be done, but we are stronger through our partnerships. We remain committed to solving homelessness in our community, with transparency as a guidepost through the process. 
Have a question or a media inquiry? Send an email to Communications Manager Hannah Beausang.
More resources:
Watch a video about how to use the dashboard
See an infographic about the dashboard
Read the FAQs