Coordinated Entry
Coordinated entry is a streamlined system that's designed to match people experiencing homelessness with available housing. This process helps prioritize resources based on vulnerability and severity of service needs to ensure that people who need help the most can receive it in a timely manner.
The ultimate goal is to improve health and housing outcomes in our community by supporting people with finding the most appropriate housing and supports. These include preventing experiences of homelessness before they begin to locating permanent housing.
Our Sacramento Continuum of Care (CoC) launched the coordinated entry system in 2014. Sacramento CoC's coordinated entry system (CES) uses a Housing First model, which prioritizes individuals and families with the greatest needs for permanent, supportive housing. On an annual basis, more than 2,300 people remain housed in permanent housing. 
Establishing and maintaining a coordinated entry system is required by the U.S. Department of Housing and Urban Development. 
As the operator of the CES, SSF's role is to support the CES committee in developing and expanding the system. The CES committee is responsible for providing input and making recommendations to the CoC Board on principles and guidelines for the coordinated entry system. 
To access resources and housing, please call 2-1-1.
---
Guiding principles
The goals of Sacramento's CES:
To increase the efficiency of the local crisis response system

Improve fairness in how housing and services are allocated

Facilitate rapid access to housing and services.
The five elements of coordinated entry:
Access: The point(s) of entry for services through coordinated entry.

Assessment: The tool(s) used to determine a household's eligibility and prioritization for available housing resources.

Problem-Solving: The process for resolving an episode of homelessness quickly by exploring a household's existing supports and offering one-time financial assistance, as needed.

Prioritization: The process for determining the most vulnerable households for immediate housing placement.

Referral/Placement: Once prioritized, households are matched with the best-fitting housing resources.




---
How the system operates:
Clients and households move through the five elements of the coordinated entry system, starting with access and ending with a referral or placement.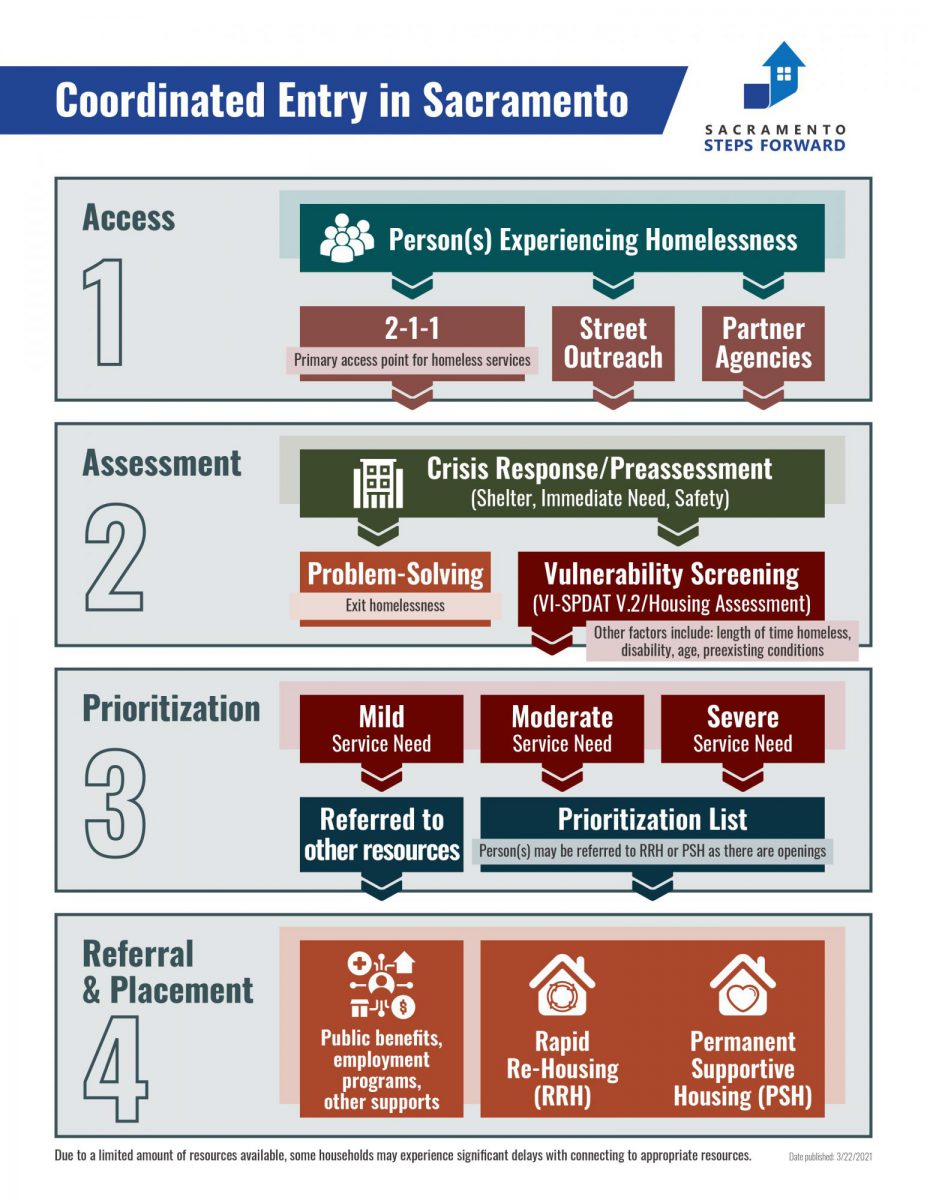 ---
Resources: